What do our Midfielders actually do - Part 1 - Douglas Luiz
It's been both an interesting and exciting time in the journey of Aston Villa 20/21 season. The last few weeks have included flowing football, character building losses & galvanising wins. Villa have continued their improvement on last years results and have been winning over fans along the way. Coming through a period that spanned 6 games in 17 days a topic of discussion centred around getting fresh legs into the team. Comments were made "was the midfield tiring?". At times it was asked why Dean Smith was not using his bench, either to shake up his team selections or to make substitutions. Without going into the merits of Dean Smiths selection policies or tactical nuances regards subs, it was very interesting when Smith made the decision to drop Douglas Luiz in favour of Marvelous Nakamba. It's fair to say that dropping Douglas Luiz was not in the tea leaves for many fans prior to seeing the team selection on 6th February. This selection got me thinking and looking into why we didn't see this and if maybe we should. It also got me thinking about how a rotational policy might look amongst our midfield.
As of now we have six midfield players vying for 3 positions. Douglas Luiz, John McGinn, Marvelous Nakamba, Ross Barkley, Morgan Sanson & Jacob Ramsey. I am going to look at the output for these players but due to Jacob Ramseys small sample size (165 mins) I have not included his statistical output in this 5 part report.
Its no secret that Dean Smith prefers a midfield three of Douglas Luiz in a withdrawn role, with John McGinn tasked with covering the ground in the No.8 role also covering the right hand flank & with Ross Barkley in the most advanced role, but what happens when this preferred set up needs to be replaced? Who fits in where or does anyone fit perfectly into another players spot?

It would be remise not to acknowledge the difference in playing time of each player. Here are the minutes played per player this year as of Feb 11th 2021
Douglas Luiz 1659 mins
John McGinn 1800 mins
Ross Barkley 958 mins
Marvelous Nakamba 287 mins
Morgan Sanson 1218 mins (Marseille minutes included)
To discuss this in a long piece might bore the pants off people (here's hoping this still doesn't do that) I am going to break this down into 5 different parts starting with Douglas Luiz.
Firstly lets look at the Douglas Luiz and his output 20/21 as of Feb 11th 2021: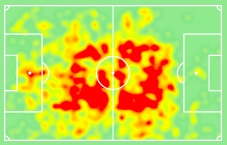 Image: www.sofascore.com

From the heat map above depicting Villa attacking from left to right, we can see Douglas Luiz is predominantly active in the middle third of the pitch heavily favouring his defensive duties and being tasked with protecting the back four. This is no secret to anyone as it was Douglas Luiz ascension to prominence that had a direct correlation with Villas uptick in performance and ultimately their survival. Since the new season has began Douglas Luiz is performing above average for his position when compared with all midfielders in Europe top 5 leagues He is not eye-catching from a numbers point of view in many attacking areas, as to be expected, but what Luiz has been excelling at is his assuredness in his own penalty area where he is in the 91st percentile with 3.67 touches/90mins. His assuredness is also seen when looking at how many times he has mis-controlled the ball fall into the 83rd percentile (showing that 83% of players mis-control the ball more compared with Dougies mark of 0.48/90mins) and also he is in the 70th percentile when we look at how difficult he has been to disposes. Douglas Luiz also shows his defensive prowess when we look at how he predominantly only pressures in the defensive third where he is averaging 7 pressures per game & also his average of 11.63 loose ball recoveries per 90 mins which has him in the top 73% of all midfielders in Europes Top 5 Leagues.
In an attacking sense Douglas Luiz has not been tasked with showing any creative or attacking nouse as is backed up by the numbers. This is no secret at all. He scores either right in the middle or in the bottom 30 percentile of attacking output based on the top 5 leagues in Europe averaging 0.83 shots per game with an average shot distance of 23.3m. His passing output is also not anything to write home about attempted passing numbers of 43.72 passes per game which lags in the 22nd percentile along with his progressive passing distance coming in at a meagre 176.36m it shows that he is very much tasked with seek and destroy, then a quick short pass to get the counter attack going.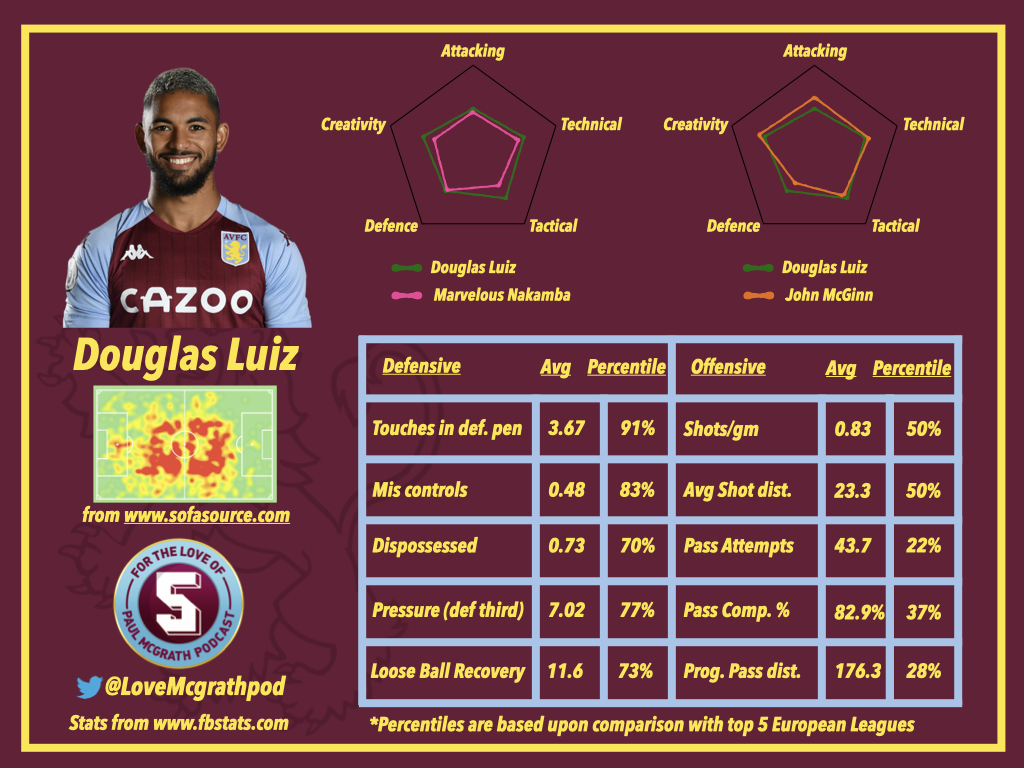 Looking at how Douglas Luiz compares to our own players like we can see in the above graphic in Nakamba & McGinn, probably the fairest players of his ilk, I wanted to look at how he stacks up against the elite like Fabinho and Fernandinho.
In comparison with Fabinho of 2019. Fabinho played more strictly as a midfielder as opposed to his new found role in defence. Fabinho completed more passes but only had a marginally bigger Progressive Pass Distance at 231m. Also Fabinho had an even worse Average Shot Distance of 26.70m meaning that he shot from even further out on average, leading us to see that he was curtailed from an attacking point of view even more than our Dougie.
In defence is where the big differences lie. Fabinho tends to get more tackles in through out the field where as Douglas Luiz tackles are almost fully curtailed to the Defensive Third. Fabinho ranks in the top 94% of Defensive Midfielders when it comes to making tackles in the Middle Third and Attacking Thirds of the field. The two players fare out similar when looking at the amount of times they are dispossessed and mis-control the ball which bodes well for Douglas Luiz as for me this is a key attribute of a defensive pivot to get attacks going quickly. Fabinho out scores Douglas Luiz in the areas of recovering loose balls scoring 14.11 per 90 mins.
Let's see how Dougie measures up to a 2018/19 vintage Fernandinho who played DM throughout the season. Fernandinho in 2018/19 was a far more accomplished passer through out the season, then Dougie, regularly scoring in the top 80% of all midfielders in Europes top 5 Leagues. Also he was deployed to win the ball much farther forward than I would have suspected with most of his tackles coming in the Middle third of the field and the least amount of his tackles coming in the Defensive third. Fernandinho makes many more tackles than Douglas Luiz which highlights the difference in how they are utilised in their different systems. Fernandinho was afforded more opportunities to get on the ball and control play within Peps system. Again not a massive surprise to anyone considering Fernandinho's experience and the style City play with.
In conclusion at this point in Douglas Luiz development as a Defensive Midfielder there are some really encouraging signs statistically. He shapes up really similarly from an attacking, technical and creative point of view to Fabinho and Fernandinho (Fernandinho's passing aside). Where the big gaps occur is the tackling statistics. Both Fernandinho and Fabinho are more industrious and active tackling throughout the different areas of the pitch in comparison to Douglas Luiz. Saying that, we have to remember our Dougie is only still in his formative years, at 22, and the room for growth along with his potential is superbly exciting. Taking out systems from analysis it is very vey encouraging to see how Douglas Luiz is performing when compared not only with his compatriots but also seriel winners, something I would hope to be able to say about Douglas Luiz in a Villa shirt at some stage.